Amerex offers the widest choice of approved kitchen fire suppression in the market place with detection and suppression options to suit every scenario.
The system is listed by Underwriter's laboratories, Inc., (UL) and tested to standard UL300. Also approved by LPCB (LPS1223)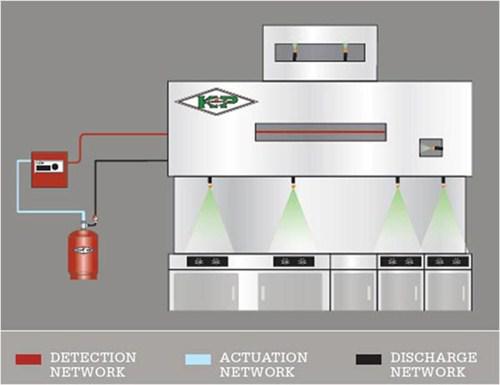 Amerex KP Restaurant Fire Suppression System
Amerex offers two systems to meet the industry's varying needs. With the Amerex KP Restaurant Fire Suppression System you get appliance-specific coverage that typically offers lower initial cost. The KP system is ideal for uses where appliance location is fixed such as in fast food chains, casual dining, cruise ships and school cafeterias.
Amerex ZD Restaurant Fire Suppression System
The Amerex ZD Restaurant Fire Suppression System adds greater flexibility by letting you reconfigure a kitchen or move appliances without moving nozzles. The nozzles are equally spaced and are situated high out of the way of kitchen staff. Due to the adaptability, this system is the most cost effective choice over the life of the system, if cooking configuration is altered. OEM's and canopy fabricators can often install most if not all of the pipe work within the canopy prior to installing the canopy on site. In most cases providing a more aesthetic, factory fitted presentation, showing less pipe work.  The ZD system was designed with fine dining, culinary schools, military facilities, hotels and hospitals in mind.